While I prepared for this Sunday's service I noticed the wonderful range of music we had chosen to express ourselves. Stylistically: African tribal as in Marty Haugen's "God is Still Speaking", pop rock with Bruce Harding's "Shine", a contemporary ballad "Come Touch Our Hearts"  by Gordon Light and the rich heritage hymn "Come, Let Us Sing of a Wonderful Love" — each of these songs, in their diversity of language, poetry, melody and harmony and various rhythms will lift up and support a particular part of the message on Sunday. Woven together they each contribute to the message that:
We are beloved.
We are called to live with joy!
The choir will be singing a song written by Fred Kaan in 1967, with music by Ron Klusmeier which is very much focused on celebrating the here and now. I find these lyrics wonderfully relevant and contemporary even though they were written 45 years ago. … you might want to reflect on the author's comments and lyrics below. I am looking forward to seeing many of you this Sunday.
Oak Bay United Church
1355 Mitchell St. Victoria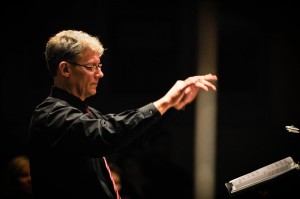 Gordon Miller
Music Minister
"the present tense" by Fred Kaan
Author's Comments
• Author Fred Kaan, from his book The Only Earth We Know (Stainer & Bell / Hope Publishing Co., 1999, page 68): "Written in 1967-ish for the Plymouth Church in Plymouth [England], this hymn tries to spell out our priorities as far as our evaluation and use of time are concerned. One thing is for sure: tradition is dynamic rather than static; it means 'remembering forward'. We cannot hand Christ back, so to speak. Handing Christ on — tradition! — is future orientated. Meanwhile, there is the here-and-now…"
Lyrics
Thank you, O god, for the time that is now,
for all the newness your minutes allow;
make us alert with your presence of mind
to fears and longings that move human kind.
Thank you, O God, for the time that is past,
for all the values and thoughts that will last.
May we all stagnant traditions ignore,
leaving behind things that matter no more.
Thank you for hopes of the day that will come,
for all the change that will happen in time;
God, for the future our spirits prepare,
hallow our doubts and redeem us from fear.
Make us afraid of the thoughts that delay,
faithful in all the affairs of today;
keep us, Creator, from playing it safe,
thank you that now is the time of our life!